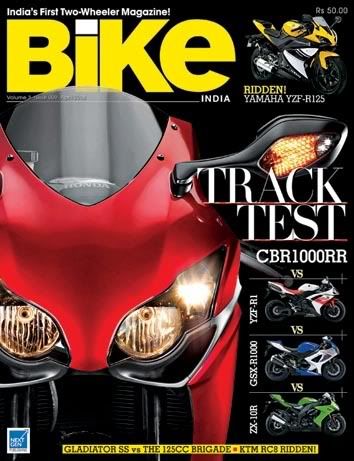 1. 2008 Litre class shooutout
The 1000cc Jap machines slug it out. And there is a surprise winner!

2. 125cc Shootout
5 125cc bikes fight for the title

3. KTM RC8
Bike India rides the Bike heading our way.. soon

4. Yamaha YZF R125
Bike India rides the baby missile. If this ones so good, we wonder how the R15 will be.

5. Poster
The winner of the litre class shootout is on the poster this time.

6. Balu the biker
BIke India gets in touch with a different breed of bikers.

7. Engine singh
Engine Singh..well, well - a newcomer here, he did help us a lot. Read more about him.

8. 2nd part of Yamaha Tech
Read what goes into making the R15 the most technologically advanced Bike around.